See below for new books from George Behe!

---
Well over three quarters of a century have passed since the White Star liner Titanic grazed an iceberg and went down in mid-Atlantic with over fifteen hundred passengers and crewmen still on board her. Fascination with the disaster has continued unabated ever since - and in recent years has increased dramatically as a result of the discovery of the wreck site by Dr. Robert Ballard. New books and articles about the tragedy appear with predictable regularity, and casual observers might be excused for opining that every possible nuance of the tragedy has already been explored exhaustively.
Yes and no. Although most (but not all) key facts about the Titanic disaster have been reasonably well-known for years, there is still a vast amount of fascinating information about the sinking that has never found its way into the literature documenting the tragedy.
Which brings us to the purpose of this web site.
The author hopes to use this site to present (on a semi-regular basis) "chapters" containing little-known information about the Titanic disaster that has been overlooked by historians ever since the events in question took place. The material presented here has been culled from a wide variety of sources: period newspapers, diaries, letters, personal memoirs and primary source documents held in archives on both sides of the Atlantic. Each chapter will vary in length, but will (hopefully) provide the reader with interesting vignettes of the Titanic disaster that - until now - have lain lost and forgotten among dusty records of those steadily-receding events that make up our common past.
The author hopes that researchers will find this material useful and that it will further our understanding of the events surrounding the sinking of the passenger liner Titanic.
Please check back periodically for page updates.
---
Last Update: November 4, 2014
---
Present Contents:
P. 2 How the Titanic Became 'Unsinkable'
P. 3 The Music of the Titanic's Band
P. 4 The Man Who Dressed as a Woman
P. 5 The Californian: A Manufactured Mystery
P. 6 The Californian: The Harrison Correspondence
P. 7 The Californian: Questions and Answers (I)
P. 8 The Californian: Questions and Answers (II)
P. 9 Psychic Forewarnings of a Tragedy?
P. 10 Books of Interest to Titanic Researchers
P. 11 First Officer Murdoch and the 'Dalbeattie Defense'
P. 12 The Two Deaths of John Jacob Astor
P. 13 The Fate of Jack Phillips
P. 14 "She Shut Out Her Lights, My Lord."
P. 15 The Officer Who Shot Himself - An Alternate Solution
P. 16 Iceberg Visibility: Yes and No. . . .
P. 17 The Illegitimate Daughter(?) of Archibald Butt
P. 18 A Mystery Solved - Identifying Titanic's Officers
P. 19 The Titanic Mummy
---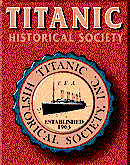 ---
Researchers interested in the Titanic disaster would be well advised to join the Titanic Historical Society; the "Commutator" (the quarterly journal of the THS) contains an enormous amount of information about the ship, her passengers and crew that is unobtainable elsewhere. The address of the THS is:
Box 51053
Indian Orchard, MA 01151-0053
USA
THS Web Site
---
Researchers interested in studying the Titanic disaster via the internet should definitely subscribe to Mark Taylor's Titanic Discussion Mailing List. The List is an excellent way for buffs all over the world to exchange information with an immediacy unmatched by any other medium. Readers can subscribe to the List by visiting the Silverquick web site at:
http://www.titanicnewschannel.com/join.html
---

---
Members' Web Sites:
Dave Billnitzer's Titanic Site
Mark Chirnside's Titanic Site
David Clarke's 3-D Titanic Site
Andrew Clarkson's Titanic Site
Tad Fitch's Titanic Site
Vladimir Gendelman's Titanic Site
Sam Halpern's Titanic Site
Murdo Messer's Titanic Site
Phil Ottewell's Titanic Site
Rob Ottmers' Titanic Inquiry Site
April Prichard's Titanic Site
John Rudolph's Titanic Site
Parks Stephenson's Titanic Site
Mark Taylor's Titanic News Site
Sean Winterberg's Titanic Model Site
Bill Wormstedt's Titanic Site
---
George Behe's newest


ON BOARD RMS TITANIC:
Memories of the Maiden Voyage


A collection of letters, postcards and memoirs written by passengers and crewmen before,

during and after the Titanic's tragic maiden voyage.

To order, go to Amazon.com by clicking

here.


VOICES FROM THE CARPATHIA:
Rescuing RMS Titanic


This book represents the telling of the Titanic story from the viewpoint of the Carpathia - those who came to the Titanic's rescue.


To order, go to Amazon.com by clicking

here.







George Behe has published a three-volume biography of Major Archibald Butt, one of the Titanic's most prominent victims. Each of the three books approaches 800 pages in length, and it is unlikely that a more detailed treatment of Archie's fascinating life will ever appear in print. Please see the following links for additional details on ordering the books. All of his books at Lulu.com can be found at the following link:

---
To contact the author, click here:
---
To Page 2