The A-deck electric crane

Left, the crane "as-is" is viewed from outboard. The photo of the Spedden boy playing with his top was shot from inboard. A-deck slopes down to B-deck and the bulwarks for both lay almost next to each other. A&B decks shifted inward, leaving the wall to the 2nd class library exposed.
The following photos show a remarkable then-and-now comparison. Frederick Spedden watches his son Robert play with a top on A-deck aft. The same area is depicted in the view of the model.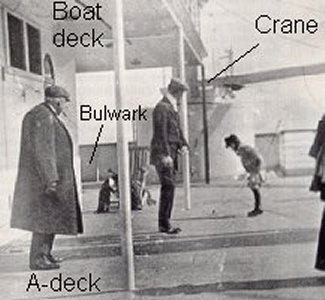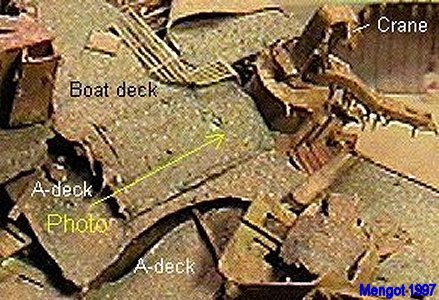 The photo of the Spedden boy playing with his top is from the Father Browne collection. The boat deck above the crane collapsed down and twisted aft on the starboard side until it nearly touches the crane. The crane is still present, but hangs precariously over the side. A-deck is shifted inward and shattered in the center area. The starboard palm court cafe on A-deck is crushed by the weight of the boat deck section that flipped back and is hanging over the side, pulling the remaining boat deck down toward A-deck. A-deck itself is collapsed downward to B-deck at the aft end.